Harper's BAZAAR Hong Kong於BAZAAR At Work Summit 當天同時頒發了Visionary Women Awards,旨在表揚成就超卓的傑出女性及其在不同領域的影響力。作為年輕女性的模範榜樣,獲獎者啟發了不少下一代女性。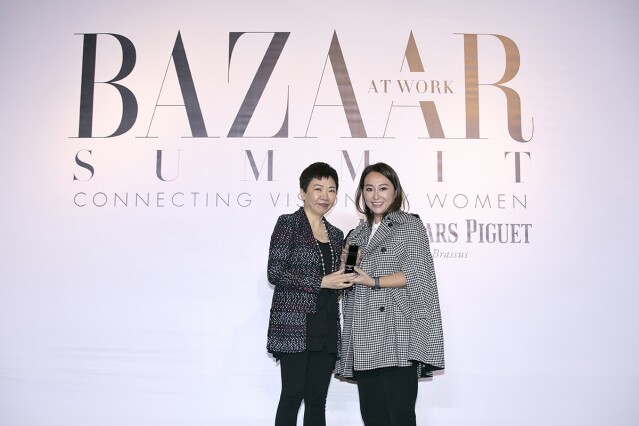 Winnie Chiu 邱詠筠 - Executive Director & President, Dorsett Hospitality International
A prominent figure in the hospitality scene, Winnie Chiu, JP also serves as the Chairman of AGORA Hospitality Group and the Executive Director of Far East Consortium International Limited. Winnie joined as President and Executive Director of Dorsett Hospitality International in 2010 and has grown the group from 11 hotels in 3 geographies to 64 hotels in 25 cities worldwide.

Winnie is one of the youngest Justice of the Peace (JP) appointed by the HKSAR Government and has been active within the art community. She was accorded an Honorary Fellowship by The HKAPA and VTC, she is the Chairman of Hong Kong Art School; Council Member of Hong Kong Arts Development Council, Joint President of The Society of The Academy for Performing Arts and much more.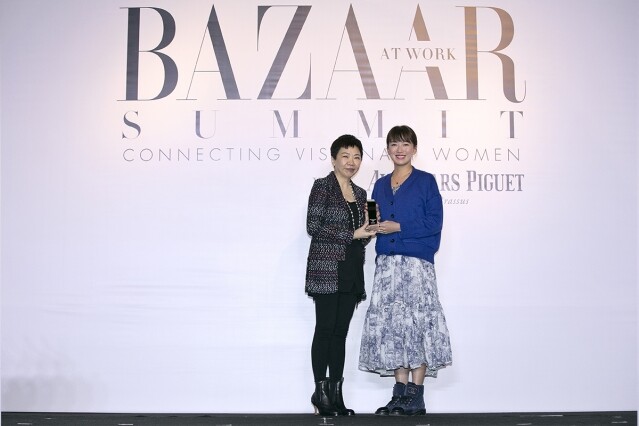 Norma Chu 朱嘉盈 - CEO & Founder, DayDayCook
Norma Chu started DayDayCook in 2012 where she turned her passion for cooking into business. In 2015, she further expanded her businesses into the China market.

The idea behind DayDayCook is to provide a 360 lifestyle experience to today's young female millennials who crave a better lifestyle. The company currently offers 3 major lines of businesses (DDCTV content, E-commerce and offline experience centers) to form a panoramic brand ecosystem.

To date, over 65M USD has been raised from Alibaba, K11 and others, making DayDayCook the largest cooking and lifestyle content platform with 80 million active viewers, and has 6 experience centers nationwide.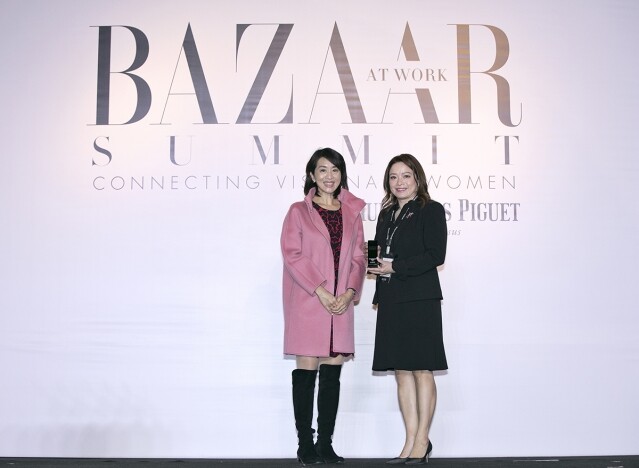 Ava Kwong 鄺靄慧 - Clinical Professor, The University of Hong Kong
Professor Kwong is the Clinical Professor, Chief of Division of Breast Surgery at the University of Hong Kong, and the Chairman of the Hong Kong Hereditary Breast Cancer Family Registry, a charitable organisation. She is also a member of several committees of the Food and Health Bureau, Government of HKSAR.

With Professor Kwong's contributions in the academic, community and charity services, she is the first Hong Kong Female Professor in Surgery and has received numerous grants and awards including 'Uccio Querci della Rovere Award' of British Association of Surgical Oncology (BASO).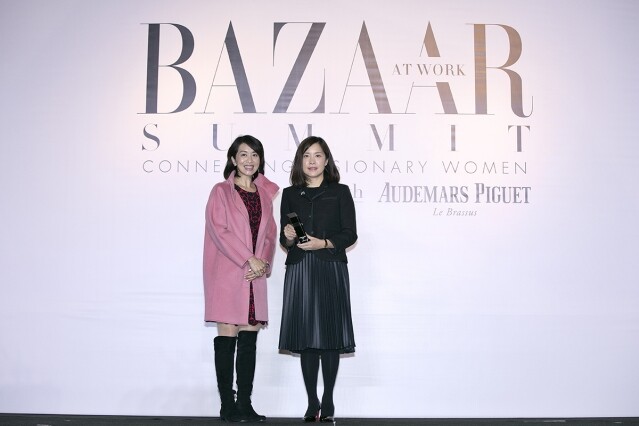 Randy Lai 黎韋詩 - CEO, McDonald's Hong Kong
With a vision to innovate for growth and build a better McDonald's, Randy leads 15,000 employees over 245 restaurants, serving more than one million customers daily. Randy is McDonald's Hong Kong's first CEO nurtured locally, and was also the first female Managing Director of McDonald's Singapore in 2010 prior to her current capacity.

Randy is the winner of Women of Influence Awards and the Professional of the Year in 2017 by AmCham Hong Kong. Under her leadership, McDonald's Hong Kong received the Best Company for Women award in 2017 by the same organization.

Randy is the Vice Chairman of Hong Kong Retail Management Association and a Council Member of Hong Kong Management Association. She has also been serving as Adjunct Associate Professor at CUHK since 2012. As a Board Member of the Ronald McDonald House Charities, Randy commits herself to helping sick children and their families.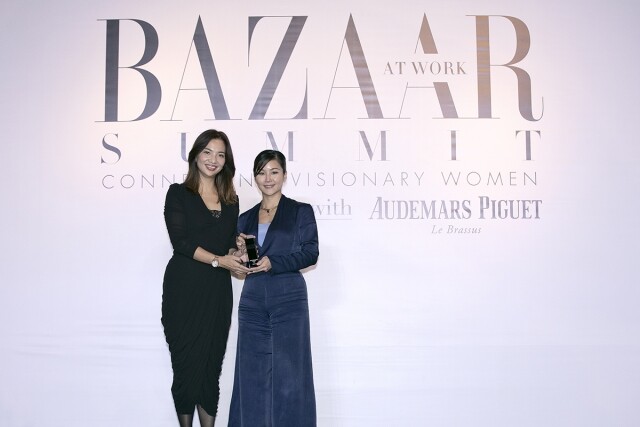 Vicky Lau 劉韻棋 - Executive Chef & Owner, TATE Dining Room and Date by Tate
After graduating from NYU, Vicky Lau initially embarked on a career in graphic design, where she learned how subtle visual cues can be used to provoke an audience's response, a skill she would later employ in her cooking.

In 2012, Vicky opened Tate Dining Room serving French-inspired dishes with Asian influences. A year later, the chef's skill and artistic talent earned Tate Dining Room its first MICHELIN star, the first of two MICHELIN stars she would achieve eight years later. And in 2015, she was awarded Asia's Best Female Chef voted by World's 50 Best Restaurants.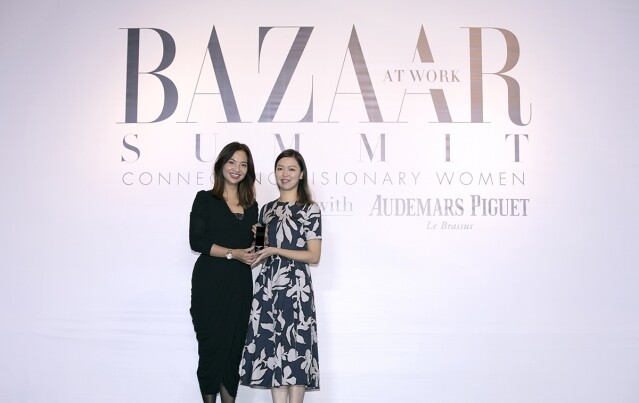 Cathy Lui 雷雅萍 - CEO, OPER Technology Limited
As a passionate academic researcher and entrepreneur, Dr. Cathy Lui has dedicated her work to helping patients with incurable diseases. She and her team have demonstrated a groundbreaking technology - Autologous Neural Stem Cell Harvest as a potential cure for neurodegenerative diseases such as Alzheimer's and Parkinson's disease.

Under Dr. Lui's leadership, OPER Technology has achieved remarkable results, receiving more than 36 local and international awards. Cathy's personal accolades also include the MIT Technology Review Innovators Under 35 (APAC), The Greater Bay Area Outstanding Young Women Entrepreneur and Young Achiever of the Year at the Women of Influence Awards.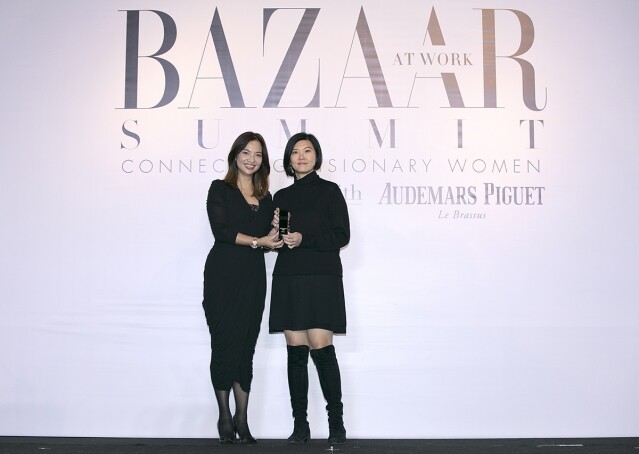 Betty Ng 吳家瑩 - Design Director & Founder, COLLECTIVE
Betty Ng is the Founder and Design Lead at COLLECTIVE, an international architecture studio with offices in Hong Kong, Madrid and San Francisco. Betty also serves as Adjunct Associate Professor of Architecture at CUHK. She is a Registered Architect in the Netherlands, a RIBA Chartered Architect in the UK and an Associate member of the AIA, USA.

A Harvard and Cornell graduate, Betty has led many projects around the world during her previous tenure with leading architecture firm OMA, she has also worked with Herzog & de Meuron in Basel and Massimiliano Fuksas in Rome.
訂閱 Harper's BAZAAR 電子報了解更多生活資訊